Dear Wendy,
The end of October has seen the culmination of an incredibly busy and rewarding time, for the Fremantle Foundation, as we worked together to enhance the quality of life in our local community through the generosity of our donors, partners and supporters.
During this time, I read the following powerful message from UNICEF, CEO Tony Stuart.
"I would argue that the private sector has a pivotal role in the economy of Australia and the economy is the engine room of Australia but the chassis of Australia is its social fabric: it defines who we are, what our values are, what is our identity…"
In this edition, you will hear from one of our new donors, learn more about our efforts to have a positive impact on our community, and upcoming events.
In this edition:
Donor Story - Ellen Health Community Fund
Ellen Health is a doctor-owned and managed General Practice providing a diverse range of medical and allied health services to the Fremantle community.  In June 2019 Ellen Health set up a Named Fund with Fremantle Foundation in an effort to raise funds for those in need within the Fremantle community that they serve every day.   Ellen Health Community Fund has a particular focus on homelessness, mental health, domestic violence, cancer, and other health-related concerns.
"It is so important to support each other, especially in this 2020 pandemic year! We are blessed to be in WA and thoughtful of all those affected by the restrictions that Covid19 has brought" Dr Catherine Douglass, Practice Principal Ellen Health
After a year of raising funds, they are currently preparing for their first grant.  Fremantle Foundation has assisted them by putting together a list of grant suggestions within their chosen focus areas and staff at Ellen Health recently met up at National Hotel to discuss which organisation they are supporting with their inaugural grant.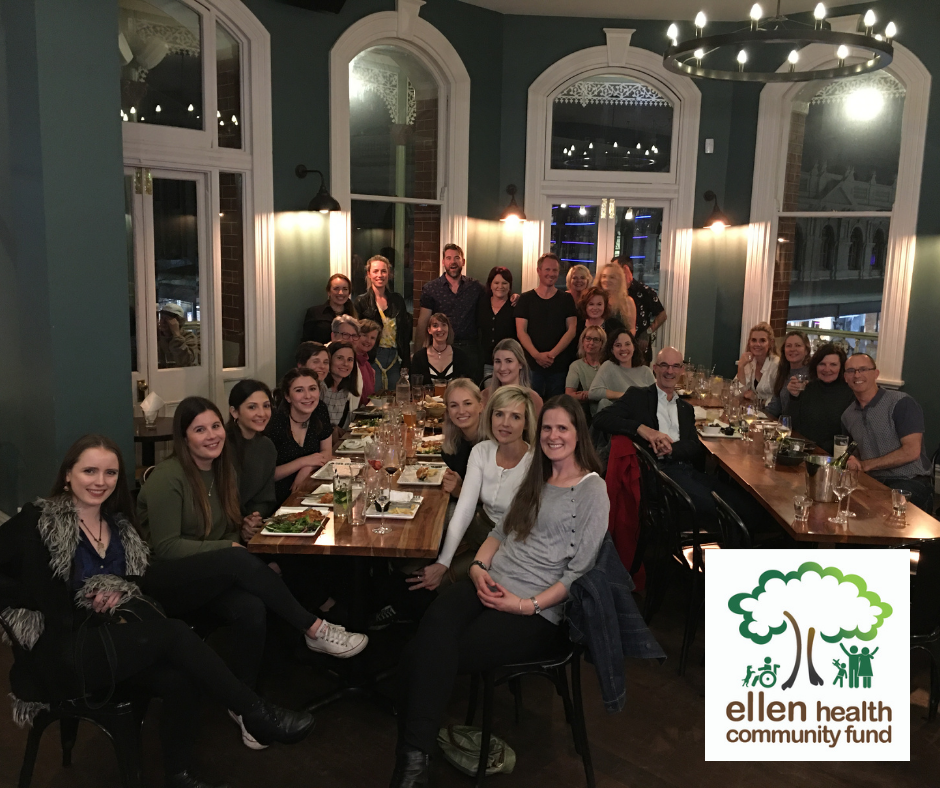 If you would like to support their fund you can make a donation here.
If you would like to start your own fund with Fremantle Foundation you can find information about our Named Funds on our website or contact us for further information.

Impact100 Fremantle Update - Final Four Announced for 2020 | Voting & Awards Night this Thursday 5 November
We are pleased to announce the Final 4 organisations for Impact100 Fremantle 2020!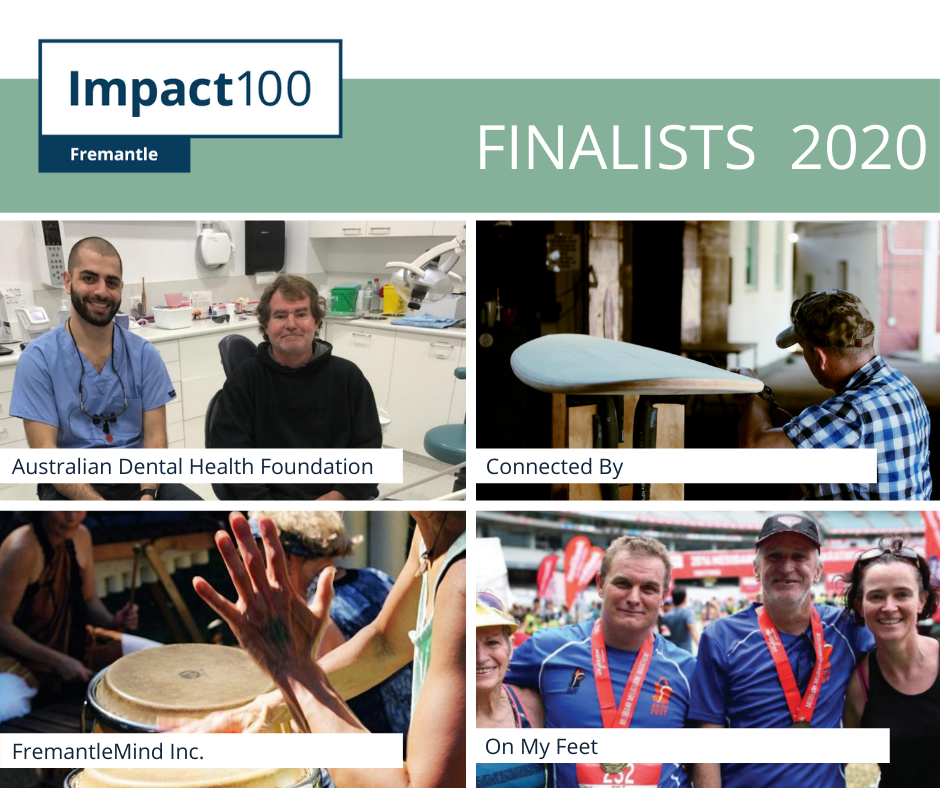 To hear more about these amazing finalists or to purchase one of the few remaining tickets to the Voting & Awards Night this Thursday 5 November, please check out the Impact100 Fremantle page on our website.
WA Relief & Recovery Fund: COVID-19 Grants Announced
The Fremantle Foundation has been working hard to support the WA community during the COVID19 crisis by creating the WA Relief and Recovery Fund: COVID-19, which directs financial support to food and housing, social support and health services for people experiencing homelessness, Aboriginal-owned organisations supporting their communities, families on low-incomes, seniors, and those heavily reliant on sectors such as the arts, who have continued to face increased struggles because of reduced or lost income.  To date, this fund has raised over $300,000.
As part of this campaign, we were very proud to distribute over $200,000 in grants to 9 Western Australian not-for-profits who provide vital support to the WA community.
This was made possible due to the support of our generous donors along with the Paul Ramsay Foundation and Fremantle Ports, who have all contributed to the WA Relief & Recovery Fund.

Dress for Success Perth - Career Support Program
Dress for Success (DFS) provides support to vulnerable women who are currently looking for employment this grant will allow DFS to provide delivery of, one to one resume support, mock interview training together with a series of workshops.
FremantleMind Inc. - Fremantle Alliance Against Depression
FremantleMind Inc supports high-risk groups, patients, and their families through activities that are supported by qualified mental health professionals.  This grant will allow FM to improve mental health issues, improve integration of the local mental health system, prevent further mental distress, and aid community connection and support by funding a Coordinator for Fremantle Alliance Against Depression.
DADAA (Disability in the Arts Disadvantage in the Arts)- Digital Diversity
This grant will address the inequity of digital participation and social isolation for the DADAA Midland target group.
Barking Gecko Theatre - Schools Access Program
Barking Gecko will provide tickets and transport to their production of Bambert's Book of Lost Stories to 400 children living in low socio-economic suburbs during November 2020.  The show held at UWA will include a 50-minute incursion drama workshop and teachers are provided with classroom resources. 
Nyamba Buru Yawuru - Mabu Mayi Cafe Social Enterprise Broome
A social enterprise café, the only Indigenous-owned and run café in Broome, was set up in November 2019. Unfortunately, with COVID-19 a lot of the events and meetings that were anticipated to be held in the regional centre of Broome, have not gone ahead, which limits the income stream for the social enterprise. The café is run out of their Liyan-ngan Nyirrwa Cultural Wellbeing Centre, which acts as a social enterprise, including a training program for Transition to Work participants.
Southern Aboriginal Corporation - Community Care Package for Great Southern
SAC represents 3,900 Noongar people. This grant will provide support to ~500 vulnerable individuals and families in a number of small communities.  Funds will ensure food and other goods obtained from other not for profits can be delivered to Noongar people across the broader Great Southern (including Albany, Ongerup, Mount Barker, Katanning, Gnowangerup, Tambellup-Broomehill, Kojonup, Denmark, Jerramungup, Manjimup, and Cranbrook).
St Patricks Community Support Centre - Making Connections, Digital Divide
This grant will allow St Patrick's Community Support Centre (St Pats) to install free public wifi throughout public areas in the Day Centre, one soundproof digital cubicle in the Day Centre, one soundproof digital cubicle in the common of their 30 room lodging house, and public and free phone charging station at the St Pat's Day Centre.  Digital access is a key part of combatting homelessness which will lead to better health, welfare, and employment outcomes which ultimately will benefit the broader community.
St Patricks Community Support Centre - Doorstep Dinners
This grant will contribute towards the expansion and delivery of 200 meals per day to 4 regions, the introduction of triage and support staff, and extension of the program for 6 months (3 months meals/6 months support).
Woolkabunning Kiaka Aboriginal Corporation - COVID-19 Food Relief
Roelands Village is a small community of former residents, or children of residents, of the Roelands Mission located in the Bunbury Region and vulnerable people in the Collie/Bunbury area.  This grant will allow Woolkabunning Kiaka Aboriginal Corporation to continue the efforts of Roelands Village staff in providing emergency food relief (food purchase, staff time, and fuel) for the 15 residents of Roelands and hundreds of vulnerable Aboriginal families in the Bunbury/Collie area. 
Please click here to find out more or to donate to the Fremantle Foundation's WA Relief & Recovery Fund.
City of Fremantle Partnership
We are delighted to announce the ongoing support of the City of Fremantle.  This valuable partnership seeks new and innovative ways of supporting the community and provides opportunities to conduct research and provide data that can be used by the Fremantle Foundation and the Council to assist in planning and strategic decision making in regard to the local community.

Lotterywest Grant
This year we were set to celebrate our 10-year anniversary but due to COVID-19 this much-anticipated event was cancelled. Thanks to Lotterywest we were able to successfully apply for event cancellation funding to assist us in providing services for the benefit of the WA community during the pandemic crisis and beyond.
Thank you for caring about the community that we live in.

Sue Stepatschuk
Executive Officer